Why work for us?
Make a difference and support Portsmouth's families, young people and children
Create a stronger future for everyone
Our Portsmouth model of care and restorative approach ensures we lead the way in supporting our community when they need it most.
When you choose to work in children's social care at Portsmouth City Council, you will benefit from strong partnerships that lays the foundations of support that the city's families, young people and children deserve. Our team work across six main areas:
Prevention and early help service
Assessment and intervention (Family safeguarding)
Looked after children
Safeguarding and quality assurance
Youth offending team
Domestic abuse services
Every child and young person deserves to reach their full potential and feel positive about themselves.
Your starter guides
Discover two workforce handbooks that detail the steps we will take to support the city's children, young people and families, explaining how we will achieve this together. As part of your induction, each guide is given to new starters to showcase Portsmouth's unique model of family practice and our restorative approach to care. Our workforce is an important part of our success, enabling children and families to reach their potential.
Our senior team
Whatever role you play, make an impact on the lives of Portsmouth's families.
Hear from senior leaders who co-ordinate teams as they support children, young people and their families who are most at need.
Councillor Suzy Horton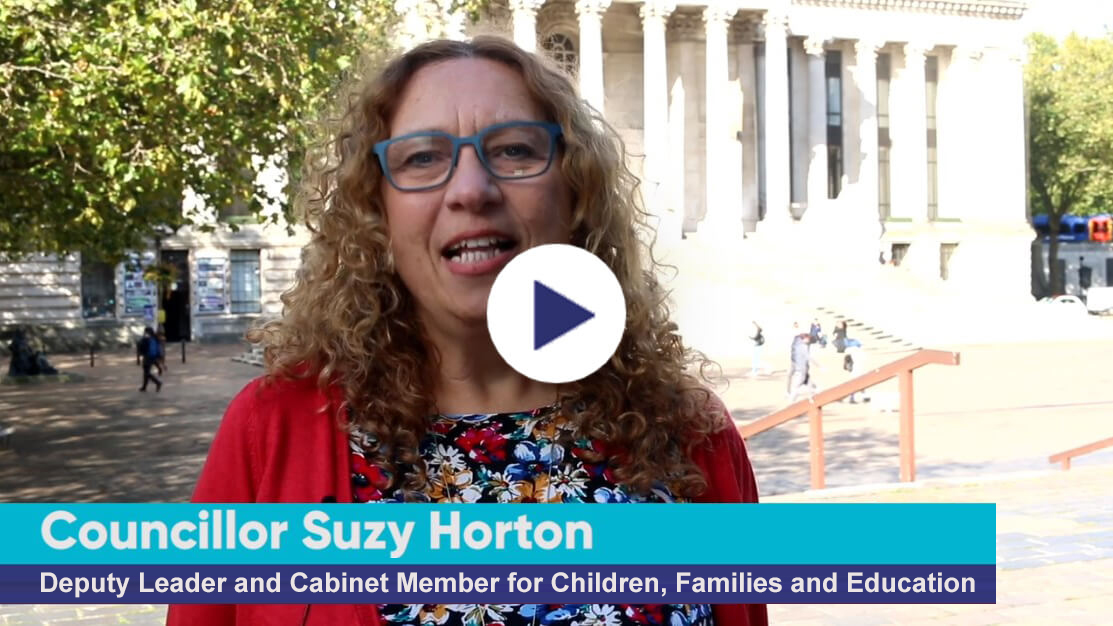 Suzy Horton
My name is Councillor Suzy Horton, and I'm the Cabinet Member for Children and Families and Education here at Portsmouth City Council. This is a council that has strong commitment to children and young people in our city. This is a council that works with a wide range of stakeholders to circulate a very clear and united vision. Just recently, there was an event called Imagine Portsmouth where those stakeholders were brought together to collate their ideas about what this might look like. This is a council that is keen on innovation. For example, we've set up a family safe guarding model where social workers and other interested agencies work with families to keep them together and to help them muddle through difficult times. Just launched is the Mockingbird model of care, where we create a community of carers to support each other. This is a council where with a cross departmental view. So whilst I am the cabinet member for children, families, and education, I also see it as my business to work with people who lead on housing and who lead on play and culture in our city. This is a council that embraces initiatives. Just recently, we've set up something called Pompey Pirates and I'm volunteering for that. So I'm very keen to get involved. And that's a project which works in improving literacy and developing a love of reading in the most underprivileged children in our city. This is a council that was doing a lot of that anyway, but I think we have to acknowledge that now we need to have that approach more than ever with the impact of the last eight months now of a pandemic, we need to make sure that we are there for our families in this city. And we need people to come and work here who share those values.
Alison Jeffery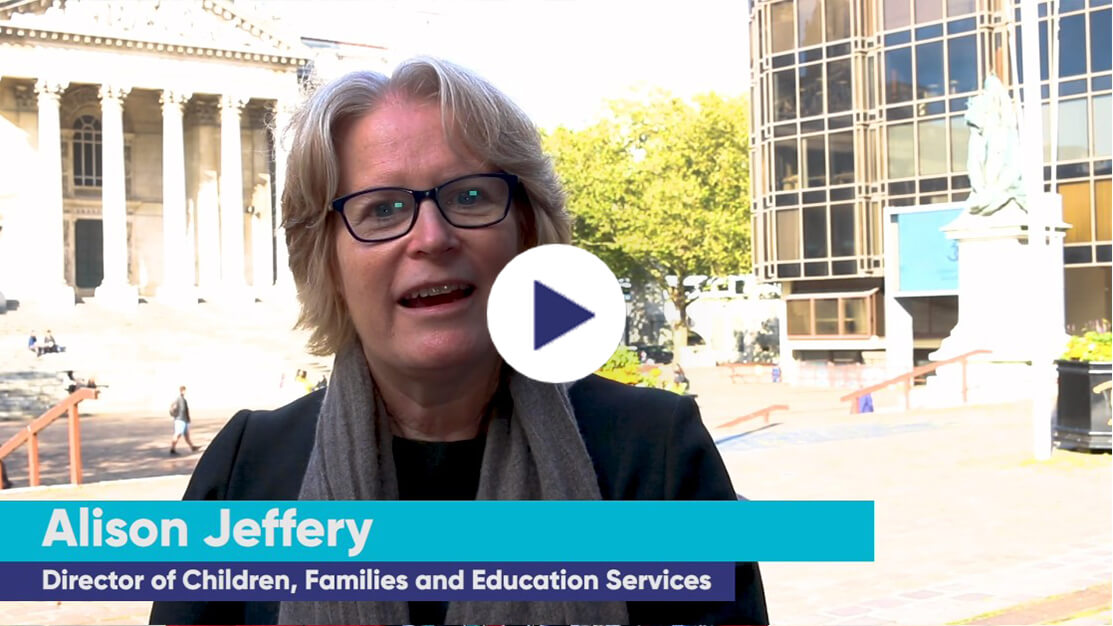 Alison Jeffery
Hello, my name is Alison Jeffery. I'm the Director of Children, Families and Education for the city council in Portsmouth. And I'm going talk to you a little bit about Team Portsmouth, the wider range of people who work around you as a social worker. So as an individual social worker, your relationship with the families that you support, is absolutely crucial. It's that relationship that is positive, trusting, transparent, high challenge, high support, that's going to drive the change that children need to be safe. But you can't do it on your own. You absolutely have to rely on NHS colleagues and police and housing. And in Portsmouth, you have that team all around you, working really well. And we know that it works well from the inspection reports over the last couple of years. There's a lovely quote from our SEND, in our 2019 report, where Ofsted picked up that one of our managers was really enthusiastic about, in Portsmouth, we work together to make change happen. And we absolutely do, but that change has been long in the making. That joint working is longstanding. We're a a small city, densely populated. The relationships are incredibly strong. We do have a lot of formal integration. So we have an integrated prevention and early health service, which is joint across the city council and NHS Solent. We have joint leadership management of our Family Safeguarding service with Adult Services. And I, myself, have a role on the management team of the NHS Clinical Commissioning Group that commissions children's services, 'cause that's what is my role within the CCG. So we've got all those formal integration and arrangements, but we also have wider partnerships, too. So we have the Portsmouth Education Partnership, which brings together all the multi-academy trusts who work in the city, all schools and academies. City council's a big player there. But we also have wonderful relationships with the voluntary sector, and with a whole range of organizations in Portsmouth that make up that team. One of the things that drives this, is a shared culture, particularly restorative practice. Which we've embedded now, through a lot of work, and a lot of groups and discussion. And it really colors the way we relate to each other, and do business with each other. We also have a shared model of practice, the Portsmouth Family Model of Practice. With lead professionals and the team, around the worker model that I talked about. But I think what really, really drives it, is that strong, shared sense of purpose, that commitment to the children in the city. And people who are new to Portsmouth really notice it. They say it's really tangible that team spirit. And it makes us incredibly proud to be part of it. And we would be delighted, if you wanted to be part of that too.
A message from deputy director for children and families, Sarah Daly
"We are on a journey to outstanding. We have worked hard to create the right environment for young people, children and families to flourish.
We know there will be challenges along the way however with your help you can make us change lives and improve outcomes for Portsmouth.
Stronger Futures enables us to showcase what Portsmouth City Council has to offer social workers at all stage of their career. Some of our team have talked about their journey into the profession, giving those interested in joining the team a realistic picture of what it is like to work here.
If you'd like more information on what we do, we're always happy to help."
A message from principal social worker, Clare Poyner
"I am delighted that you are interested in working in Portsmouth. Our children's social care service is a great place to work and develop your career.
At Portsmouth, we are keen to promote a high support, high challenge environment where you will be given opportunities to develop as a practitioner and learn new skills through our comprehensive learning and development offer. Our staff tell us they feel valued, enjoy working in Portsmouth and are well supported by their managers with regular reflective supervision and good access to training and action learning sets.
If you are interested in working in a relationship-based way and are committed to developing your social work practice and skills to deliver an excellent service for Portsmouth's children, then we look forward to welcoming you."
What our partners say?
We work with internal services as well as external organisations to create a stronger future for everyone. See what our partners said about working together.
Clare Jenkins
"The close relationship we have with Portsmouth City Council and its children, families and education department is imperative in achieving our objectives. Our partnership enables us to provide that support and protect children and young people, offering help to the families that need it most."
Derek Benson
"Portsmouth has a well established and effective safeguarding partnership, with strong and consistent engagement from all the partners. This has been put to the test throughout the COVID pandemic, a uniquely challenging period that has seen an even greater level of information sharing, shared responsibility and commitment across the city. Children, families and education services continues to play a leading and innovative role in the partnership, working with colleagues to achieve the best outcomes for our children and young people"
Richard Brown
"Solent NHS Trust and Portsmouth City Council have a longstanding relationship and shared vision to work collaboratively to deliver good health outcomes for children and families in the city. Our joint work with social care and education colleagues within the council is crucial to deliver this vision. Through our integrated prevention and early help service and in other ways too, we always make sure that key decisions about services and support for individual families are taken together. It makes a huge difference to our ability to help families improve their lives."
Journey towards outstanding
In 2018, Ofsted rated children's social care at Portsmouth City Council as 'good,' highlighting a number of key successes.
Social workers have good relationships with children and children's wishes are sought and acted on. Children are at the heart of social work practice.
The authorities well embedded restorative model of practice draws on families' strengths, focusing on maintaining children in their families wherever possible.
Partnership working is well established at all levels and children and families receive a seamless and effective service.
Leaders and professionals across education, health and care (EHC) share the same ambitious vision for children and young people with SEND.
One leader summed this up by saying: 'In Portsmouth, we work together to make things happen.'
Your benefits
Portsmouth City Council is a dynamic place to develop a career in children's social care. We pride ourselves on:
Staff development
Committed to continuous training and staff development in a culture that shares expertise and challenges us to deliver high quality services.
Competitive Pay
Enjoy generous allowances and pay that reflects the job you do as well as an industry-leading recruitment and retention package of £5000 over 6 years.
Other benefits
Flexible working and access to a fantastic pension scheme. If you have a family, child care benefits are available as well as discounts with local businesses.
Good work life balance
On average, our social workers have a caseload of 17 enabling you to focus on life at work and outside of it. Dedicated wellbeing package to support all colleagues.
Partnerships that work
Great relationships with organisations across the city ensure local residents benefit from joined up working from the get-go.
Apply for vacancies
Join Portsmouth City Council and apply for vacancies in children's social care.
Live, work and play in Portsmouth
Portsmouth offers incredible culture, entertainment and leisure as you explore the waterfront city and the benefits it brings.